Turfmaster offers Lawn Maintenance service in Mobile and Baldwin counties to keep your lawn areas looking top notch throughout the season. We offer service contracts tailored to your specific needs. We want to make lawn service easy for you and provide the highest quality service for an affordable price. No lawn too small or too large, so fill out a request today!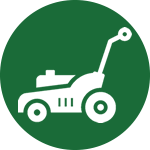 Mowing
Our crews are equipped with everything they need to manicure your lawn, and ensure your property is properly cut and maintained. We use a combination of large and small mowing equipment to be ready for all the nooks and crannies around your site. We can provide a mowing contract and schedule that will ensure timely work and keep your lawn looking nice between cuts.
  Edging
A properly edged yard will set your lawn apart and help to reach that professional look you are going for.
  Clean-Up
All our crews are instructed to inspect and clean their work areas before they go. We blow off the hard surfaces and clean up any clippings to make sure the job represents our standard of quality.
  Weed Control
Turfmaster offers Pre-emergent and Post-emergent weed control programs for its Lawn Maintenance customers. We hope to take care of those pesky weeds that pop-up and distract from the appearance of your turf variety.