Turfmaster wants to keep your planter areas looking sharp throughout the season. We offer service contracts that incorporate the full range of services needed accomplish that professional appearance that separates your yard, from your neighbor. If you just need a little help from time to time, pine straw mulch, trim, pull weeds, we can do that too, just let us know. Our crews are ready today to go to work for you!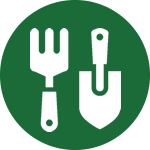 Trimming
Our staff is trained on proper plant care and the best techniques to ensure that your material is pruned safely, and correctly, so that your landscape will look good for years to come.
  Mulch
We only use the highest quality of pine straw to mulch our customer's beds. We can schedule to mulch once or twice a year to keep your yard looking sharp. Sign up for your Automatic Services to maintain your mulch as the perfect backdrop to your beautiful flower beds. We also have access to many different kinds and colors of mulch. Just let us know what you are looking for and we can get it for you.
  Weeding
Our crews can pull those pesky weeds from your flower beds or spray the stubborn varieties that just will not go away. It's best to apply a pre-emergent before they even appear.
  Fertilization
Turfmaster offers fertilization programs for its regular maintenance customers. Everything looks better when given the proper nutrients. We typically fertilize shrubs and trees once a year in the spring. Sign up for our Automatic Services and always keep your soil rich and plants happy.
  Annual Color
Flowers are the color splash that really brings the whole look together. We can provide annual color design and installation customized to your individual service contract. Or if you have that big event coming up and want a big splash, just let us know. We have access to beautiful varieties of annuals, from pansies and vinca to begonias and caladiums. Sign up for our Automatic Services and Turfmaster will always keep your beds the most colorful on the block!